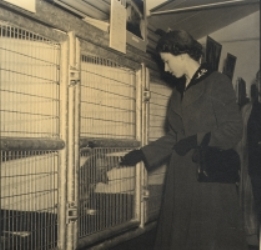 Internationally renowned, the University of Cambridge Veterinary School provides crucial care for sick and injured animals, outstanding veterinary education and leading edge clinical research. Cambridge Veterinary School was officially opened by HM Queen Elizabeth II on the 20th October 1955. Her Majesty the Queen was accompanied by HRH The Duke of Edinburgh.
Established in 1949, the University of Cambridge Veterinary School and the Queen's Veterinary School Hospital are at the forefront of veterinary science and produces veterinary practitioners, clinicians and researchers of the highest calibre. Several aspects of the Veterinary School's pioneering work have already been of mutual benefit to both animals and mankind. Leading veterinarians and medical clinicians work together to investigate and successfully treat problems suffered by animals and humans alike, such as inherited disease, eye disorders and snoring. The scope of the work is enormous.
Each year The Queen's Veterinary School Hospital, sees new patients referred from veterinary surgeons throughout the UK. As the referral list expands so the need for specialist facilities and equipment increases, giving every animal who visits our Hospital the best possible treatment and care, and providing a first class learning environment for our students.