We have been supporting the Hospital by funding a variety of much needed equipment - from surgical tools, imaging units and anaeashetic apparatus, your donations have benefited patients and clinicians alike!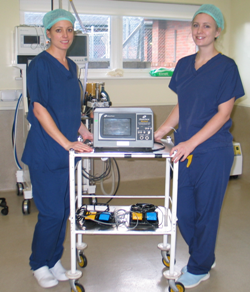 The wishlist continues to be a fantastic success and you've been helping us raise funds in numerous diverse, innovative and exciting ways!  From sponsored cycle rides, through to fun dog days, bake sales and parachute jumps - you have been tremendous!  Thank you!
With your help we have funded over £500,000 worth of equipment - it truly has made a huge difference.
There are still plenty of items requiring funding, so please get involved - there are lots of ways to donate - and we will be delighted to send a copy of the current list.  Simply get in touch!
Here's a list of the equipment that WITH YOUR HELP we have been able to contribute to the Hospital:
Radiation positioning equipment (oncology); capnograph/oximeter machine; anaesthetic machine (small animal); transport refrigeration system (farm animal); refractometer (now ultra sonic waterbath); suction machine; electrophoresis; 30 degree laprascope; dental stand; cordless clippers; doppler probe; stethoscopes; fribrescope/urethrosocpe; warming blankets (small animal recovery); obstetrics equipment; de-horning choppers (farm animal); small clippers; anaesthetic monitor (equine); probe for portable scanner; portable x-ray machine (equine); fleuroscope; arthroscope; drip stand; infusion pump; electric plates (oncology); critical care unit; radio frequency ablator; medicine trolleys; teaching equipment and aids for the clinical skills centre; atroscope; bench-top centrifuge; surgical theatre lights; tilt-top tables for consulting rooms; crush cage; teaching stethoscope; radiotherapy aids; ultrasound scanners; brachytherapy machine; mobile resuscitation trolley; neurology EMG equipment; ECG machine; cardiology probe; lambing/calving simulators - the list continues!