In 2004 the Small Animal Surgical Suite at the Queen's Veterinary School Hospital was completed. The Hospital's existing surgical facilities were built in the 1950's for the opening of the Veterinary School. While they have been updated and modernised from time to time, they were becoming increasing difficult to modify to meet the current needs of up-to-the-minute surgical techniques whilst accommodating our undergraduate and clinical training programme.
When the new Surgical Suite opened, Professor Michael Herrtage, Dean of Cambridge Veterinary School said:
"The new Small Animal Surgical Suite will enable the Veterinary School to continue to provide and develop new and innovative surgical procedures to treat our patients. Specialist procedures such as hip replacements, complex spinal and brain surgery and intricate cardiac surgery are already being carried out on a regular basis. The new facilities will enable us to carry out more of these procedures and this will have a positive effect on the health and welfare of our patients."
The centre of the facility comprises of five operating theatres built to the specifications normally found in human hospitals.
The Senior Theatre Nurse also added:
"The facilities are a vast improvement on the old ones. We are able to maintain a much higher standard of sterility within the theatres, the layout means that we can implement more efficient surgical protocols and, on the whole, it is a much more pleasant environment to work in."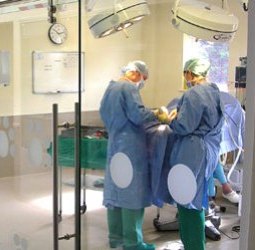 The Orthopaedic Theatre
The Small Animal Surgical Suite provides a specialist operating theatre for each of the following disciplines:
Orthopaedics
The highly controlled sterile environment in this theatre enables us to undertake routine operations as well as state-of-the-art procedures such as artificial joint replacement and arthroscopy (video investigation of joints).
The Orthopaedic Theatre was generously sponsored by IAMS UK.  IAMS has a long history of working with universities, and is committed to supporting the veterinarians of the future. Building on its relationship with the University of Cambridge, IAMS is further developing the mutual interest and expertise in the skeletal health of dogs and cats.
Soft Tissue
Designated for 'soft tissue' surgery which includes general wound management, head and neck surgery, surgery of the chest and abdomen, reconstructive and plastic surgery. Cancer surgeries are also performed in this theatre. Many of these patients will then go on for further radiation or drug therapy in the existing Cancer Therapy Unit.
Ophthalmology
Surgeries will be performed for the management of eye conditions such as cataract and glaucoma.
General Surgery
Equipped to undertake a comprehensive range of general procedures including spinal and brain surgery.
Elective Surgery
Under the guidance of veterinary surgeons, students are able to learn and develop first opinion surgery techniques, including neuterings, which are one of the more common procedures newly qualified veterinary surgeons are expected to perform. An anaesthetic induction area and a diagnostic imaging centre, including intra-operative x-ray, services all five theatres.
Visit the Queen's Veterinary School Hospital's web pages for small animal services at http://hospital.vet.cam.ac.uk/small.html