Our state-of-the-art Farm Animal Medicine Centre includes a purpose-built administration building; providing a student study and case management area, staff office and dispensary. The Centre is capable of dealing with a wide variety of livestock species, from small and large ruminants to pigs and even llamas. All farm animals whether pedigree, commercial or pets can be referred to the Centre for specialist investigation and care by their veterinary surgeon.
 Over the years since Cambridge Veterinary School first opened, huge advances have been made in the diagnosis and treatment of livestock, add to this changes in types, character and management of these patients, and it became evident that an overhaul of the Farm Animal Medicine facilities was needed.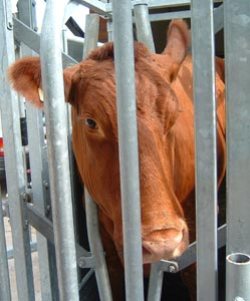 The Centre, opened in 2004, provides maximum animal comfort in an environment that supports the best veterinary care and clinical practice. The adult cattle accommodation stables are all equipped to 'bull pen' standards, each has an outside pen with restraining facilities. Particular design features have been incorporated, including ladders, in order to ensure safe and efficient handling of bulls, cows with calves at foot, and fractious animals! Two boxes have flexible divisions to allow housing of different sized animals, and special attention has been paid to ventilation, lighting and flooring.
Clinical diagnosis for certain conditions, such as lameness and neurological disorders, requires the veterinarians to be able to watch their cases in a spacious environment. The purpose built examination yard provides this for unrestrained patients, while providing safe conditions for the livestock and clinicians alike.
Studying and managing individual livestock in hospital surroundings deepens students' knowledge and understanding of disease process and the capabilities, limitations and economic constraints of treatment options. These observations form the basis for extrapolation to the herd or flock health aspect, while educating the best new veterinary graduates for general practice.
For further information please visit the Queen's Veterinary School Hospital's website: http://hospital.vet.cam.ac.uk/farm.html