In 1988 The University of Cambridge Veterinary School Trust launched a £500,000 fundraising appeal to build the FIRST Cancer Therapy Unit dedicated to the treatment of animals in Europe. This appeal represented a historic development in veterinary medicine and the Unit was officially opened in 1991.
In 1996 a new £200,000 care wing, funded by the Pet Plan Charitable Trust, was added to provided waiting, recovery and counselling rooms plus a radiotherapy ward with kennels designed to contain dogs and cats which have received radioisotopes for diagnostic or therapeutic purposes.
The Unit was the first radiotherapy facility for treating animals with cancer in the UK and, during the past 15 years, has treated over 6,000 patients.
In 2009, with the completion of the £1.3 million HOPE Appeal, the Unit was extended to house a brand new radiotherapy machine.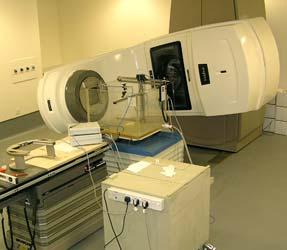 The Linear Accelerator
All animals referred to the Hospital undergo a series of diagnostic investigations to establish the type, nature and extent of the disease.
Many different types of cancer are seen in the Hospital ranging from haematological cancers such as lymphoma and leukaemia, to solid tumours involving the skin, soft tissue and bone.
In most cancer cases the diagnosis of the disease requires evaluation of biopsy material. Diagnostic imaging techniques including radiography, ultrasonography and MRI scans are available in the Hospital to establish the extent of the disease.
The three main methods of cancer treatment in animals, as in humans, are:
Surgery
Radiotherapy
Chemotherapy
Surgery is the treatment of choice for most primary solid tumours eg carcinomas and sarcomas. Tremendous advances, many of which have been pioneered at the Veterinary School, have been made in surgical oncology and reconstructive techniques, so that many low-grade malignancies are now regarded as potentially curable by good surgical technique.
Some tumours, by virtue of their site or degree of invasion are not amenable to surgical management alone, or at least show high rates of local recurrence following surgery. It is in cases such as these that radiotherapy used alone or in addition to surgery can be very beneficial.
Radiotherapy is used in the treatment of malignant tumours which, because of their site or extent, cannot be treated by surgery alone. The major tumour types and sites treated in dogs include malignant tumours of the mouth and nose, a selection of cancers involving the skin and soft tissues of limbs (including mast cell tumours and various soft tissue sarcomas) and increasingly, brain tumours.
Chemotherapy has become established as the treatment of choice for many of the haematological malignancies eg lymphoma and forms of leukaemia, diseases which are usually systemic in their nature and sensitive to cytotoxic therapy.
These treatments are not mutually exclusive. Indeed, many of the advances in animal cancer therapy are the result of combinations of the different techniques.
Clinical Research in Oncology
The main emphasis on research in clinical oncology is on clinical studies and trials, leading to improvements in diagnosis, prognosis and treatment of a variety of animal cancers. Our clinicians have published many papers in veterinary journals presenting results of studies leading to improvements in treatment of oral tumours, nasal tumours, lymphoma and leukaemia. They have also been involved in some major collaborative studies with NHS hospitals.
Our specialists have a major interest in breed predispositions to cancer and are working closely with the Flat-coated Retriever, Bernese Mountain Dog and Bullmastiff breeders and owners.
The opening of the Centre for Veterinary Science provided the advanced facilities needed for fundamental studies of the genetic basis, immediate causes and biology of veterinary cancers. This has given our clinicians the opportunity to build the strong research base needed to achieve understanding of these crucially important questions, which will affect modes of treatment of cancers far into the future.
For more information about the Queen's Veterinary School Hospital's Cancer Therapy Unit visit their web pages at: http://hospital.vet.cam.ac.uk/oncology.html